Tummy Tuck and Flank Liposuction
Individual results may vary.
Case ID:

4363
Prev
View
Front: Abdominoplasty with Liposuctipon Before and After photos (front view)
Oblique: Tummy Tuck with Liposuction before and after photos (oblique view)
Next
View
This 32 year old patient came to see Dr. Medalie at his Beachwood, Ohio clinic to discuss tummy tuck surgery. her chief complaint was excess fatty tissue and skin as well as abdominal bulging from loose muscle  (rectus diastasis). She elected to have a full abdominoplasty (also known as a tummy tuck) with liposuction of the abdomen, flanks and sides. The surgery was performed as an outpatient and the patient is shown 9 months after her body contouring procedure. She is extremely happy with her new abdominal contour. Below is information from the American Society of Plastic Surgery. Plastic Surgery results can vary
What Are The Steps Of A Tummy Tuck Procedure?
A tummy tuck procedure includes the following steps:
Step 1 – Anesthesia
Medications are administered for your comfort during the surgical procedures. The choices include intravenous sedation and general anesthesia. Your doctor will recommend the best choice for you.
Step 2 – The Incision
A full tummy tuck requires a horizontally-oriented incision in the area between the pubic hairline and belly button.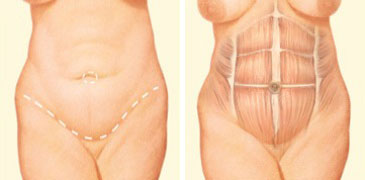 The shape and length of the incision will be determined by the amount of excess skin. Once the abdominal skin is lifted, the underlying weakened abdominal muscles are repaired.
A second incision around the navel may be necessary to remove excess skin in the upper abdomen.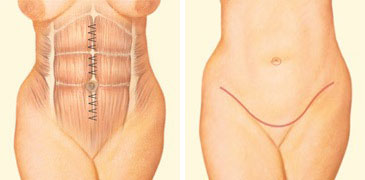 The upper abdominal skin is pulled down like a window shade. The excess skin is trimmed and the remaining skin is sutured together. A new opening for the belly button is created. The belly button is popped through to the surface and sutured into position.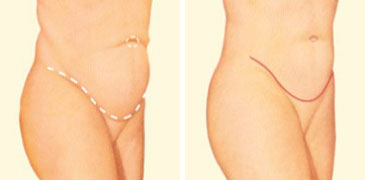 Step 3 – Closing The Incisions
Sutures, skin adhesives, tapes or clips close the skin incisions.
Step 4 – See The Results
Your tummy tuck will result in a flatter, firmer abdominal contour that is more proportionate with your body type and weight. Get more information about tummy tuck results.