Post Bariatric (Weight Loss Surgery) Body Contouring
Morbidly obese patients are finding bariatric surgery the preferred treatment option. More than 100,000 patients had bariatric surgery in 2003. Patients who undergo bariatric surgery typically lose an excess of 100 pounds, but most patients experience the unpleasant fact that as the fat rapidly dissolves, the excess skin mostly stays. Plastic surgeons have begun to offer comprehensive treatment plans for these post weight loss patients, including tightening of the skin under the arms, breast lifts, panniculectomy (removal of excess abdominal skin), lower body lift or full abodminoplasty and medial and lateral thigh lifts. Some of these procedures can be as life-changing as the initial bypass operation. Dr. Medalie has extensive experience with post weight loss body contouring and welcomes patient consultations.
The patient in the pictures below lost 150 pounds and came to Dr. Medalie requesting a tummy tuck, liposuction and breast lift. During the procedure she underwent an extended abdominoplasty with liposuction and a breast lift with small reduction on the right side. The after pictures are shown 6 weeks post-operatively. *Plastic surgery results can vary from patient to patient and are not guaranteed.
What are the steps of a body contouring procedure?
The procedures necessary to achieve your goals will be defined along with a plan for the timing of these procedures.
Plastic surgery procedures that may be recommended by your physician include:
Step 1 – Anesthesia
Medications are administered for your comfort during the surgical procedures. The choices include intravenous sedation and general anesthesia. Your doctor will recommend the best choice for you.
Step 2 – The incision
All body contouring procedures require large incisions to remove excess skin. In many cases, these incisions may be extensive.
Incision length and pattern depend on the amount and location of excess skin to be removed, as well as personal preference and your doctor's surgical judgment. Advanced techniques usually allow incisions to be placed in strategic locations where they can be hidden by most types of clothing, but this is not always the case.
Body contouring is often performed in stages. Your particular condition and goals, as well as your plastic surgeon's best judgment, will all influence how your doctor defines a surgical plan.
While it may have taken you two years or more to lose all the excess weight, it may take equally as long for the results of your body contouring to be complete.
Body lift
A complete lower body lift treats sagging buttocks, abdomen, waist, hips and outer thighs in one procedure.
Incision patterns vary and may include a circumferential incision around the body to remove the "belt" of excess skin and fat.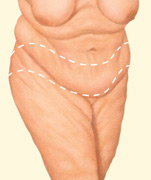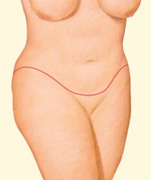 Gynecomastia surgery
The incision patterns for lifting a man's sagging breasts will be determined based on the amount of excess skin to be removed. One or a combination of incisions may be used to reduce male breast size, flatten and enhance the chest contours.
Breast lift
The incision patterns for lifting a woman's sagging breasts will be determined based on the amount of excess skin to be removed. These may include one or a combination of incisions in a circular pattern around the areola, in a line extending from the areola to the breast crease, and horizontally along the breast crease. A breast implant also may be recommended to enhance breast shape and size.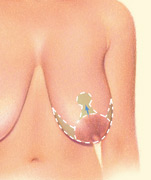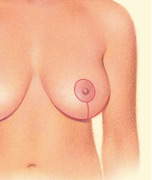 Arm lift
Sagging skin of the upper arms is treated with an incision from the underarm area extending along the inside or back of the upper arm. Additional incisions on the arms may be necessary if there are other areas of excess skin.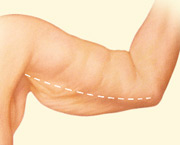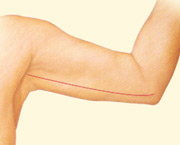 Thigh lift
Reshaping of the inner thighs is achieved through incisions in the groin that can extend downward to the knee along the inseam of the thigh.
Improving contours of the outer thigh may require an incision extending from the groin around the hip.