Breast augment with saline breast implants
Individual results may vary.
Case ID:

3261
Prev
View
Front: Breast augment with saline breast implants
Oblique: Breast augment with saline breast implants
Next
View
This pleasant 28 year old woman came to see Dr. Medalie at his Beachwood,Ohio office to discuss breast augmentation with saline breast implants. She is 5'3″ and weighs 125 lbs.  She wanted to be a full "B" cup or small "C" cup and not larger. Her outpatient surgery took place at University Suburban Surgery Center and she is shown 6 months after the breast augmentation procedure. Her implants are Allergan 300 cc smooth, round saline MP implants inflated to 330 ccs bilaterally. * Plastic Surgery Results may vary
What is breast augmentation?
Breast augmentation, sometimes referred to as a "breast aug" or "boob job" by patients, involves using breast implants to increase the size of your breasts. This procedure can also restore breast volume lost after weight reduction or pregnancy, achieve a more rounded breast shape or improve natural breast size asymmetry.
Breast augmentation is also referred to as augmentation mammoplasty. When fat from another part of the patient's body is used to create the improved breast volume, the procedure is referred to as fat transfer breast augmentation. (this is typically used in reconstruction cases more than primary augmentation cases)
What breast augmentation surgery can do
Increase fullness and projection of your breasts
Improve balance of breast and hip contours
Enhance your self-image and self-confidence
Breast implants may also be used for breast reconstruction after mastectomy or injury.
What breast augmentation surgery can't do
Breast augmentation does not correct severely drooping breasts. A  breast lift may be required along with a breast augmentation for sagging breasts to look fuller and lifted.
Breast lifting can often be done at the same time as your augmentation or may require a separate operation. Your plastic surgeon will assist you in making this decision.
Breast augmentation procedure steps
A breast augmentation procedure includes the following steps:
Step 1 – Anesthesia
Medications are administered for your comfort during the surgical procedure. The choices include intravenous sedation and general anesthesia. Your doctor will recommend the best choice for you.
Step 2 – The incision
Incisions are made in inconspicuous areas to minimize visible scarring. You and your plastic surgeon will discuss which incision options are appropriate for your desired outcome. Incision options include: along the areolar edge (peri-areolar incision), the fold under the breast (inframammary fold) and in the armpit (axillary incision). A belly-button approach is associated with a higher complication rate.

Incisions vary based on the type of breast implant, degree of enlargement desired, your particular anatomy and patient-surgeon preference. I typically use the Inframammary incision because this leads to the lowest rate of post augmentation capsular contracture.
Step 3 – Inserting and placing the breast implant
After the incision is made, a breast implant is inserted into a pocket either: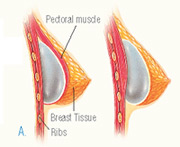 A. Under the pectoral muscle (a submuscular placement)- this is by far the most common location.
B. Directly behind the breast tissue, over the pectoral muscle (a submammary/ subglandular placement)
The method for inserting and positioning breast implants depends on the type of implant, degree of enlargement desired, your body type and your surgeon's recommendations.
Step 4 – Closing the incisions
Incisions are closed with layered sutures in the breast tissue and with sutures, skin adhesive or surgical tape to close the skin.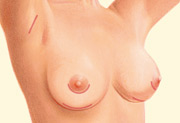 Over time the incision lines will fade. The quality of scar depends on many things, including your genetics, exposure of your body to nicotine and infection.