Breast Augmentation with Silicone Breast Implants-Cleveland Plastic Surgery Cool Case of the Week
Posted on: Mar 20 2018
By: editor
This 28 year old woman from Columbus, Ohio came to see Dr. Daniel A. Medalie at his Beachwood, Ohio office to discuss breast enhancement with silicone versus saline filled breast implants. After a careful discussion where she examined many before and after photos of Dr. Medalie's breast augmentation patients, she elected to have 350 cc silicone breast implants placed in the sub-muscular place. She is 5'5″ tall and 120 lbs.  The surgery was performed in about an hour at an outpatient setting at University Suburban Health surgery center. She is shown 6 months after her breast implantation procedure and is very happy with her new contour and breast size. Plastic surgery results may vary
What are the steps of a breast augmentation procedure?
A breast augmentation procedure includes the following steps:
Step 1 – Anesthesia
Medications are administered for your comfort during the surgical procedure. Dr. Medalie typically uses light general anesthesia. Your doctor will recommend the best choice for you.
Step 2 – The incision
Incisions are made in inconspicuous areas to minimize visible scarring. You and your plastic surgeon will discuss which incision options are appropriate for your desired outcome. Incision options include: along the areolar edge (peri-areolar incision), the fold under the breast (inframammary fold) and in the armpit (axillary incision). A belly-button approach is associated with a higher complication rate. Dr. Medalie typically uses an inframammary fold approach.

Incisions vary based on the type of breast implant, degree of enlargement desired, your particular anatomy and patient-surgeon preference.
Step 3 – Inserting and placing the breast implant
After the incision is made, a breast implant is inserted into a pocket either: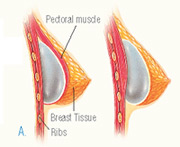 A. Under the pectoral muscle (a submuscular placement)
B. Directly behind the breast tissue, over the pectoral muscle (a submammary/ subglandular placement)
The method for inserting and positioning breast implants depends on the type of implant, degree of enlargement desired, your body type and your surgeon's recommendations. Dr. Medalie typically uses a plane partially underneath the pectoralis major muscle.
Step 4 – Closing the incisions
Incisions are closed with layered sutures in the breast tissue and with sutures, skin adhesive or surgical tape to close the skin.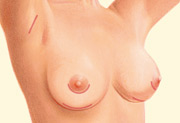 Over time the incision lines will fade. The quality of scar depends on many things, including your genetics, exposure of your body to nicotine and infection.
Step 5 – See the results
The results of breast augmentation are immediately visible.
Tagged with: breast augmentation, breast implants, breast surgery, silicone breast implants
Posted in: Cool Case of the Week